The MediNail Learning Center is excited to announce a complementary course from Dr. Bryan C. Markinson, DPM called "More Eyes on Melanoma". To enroll, please click below: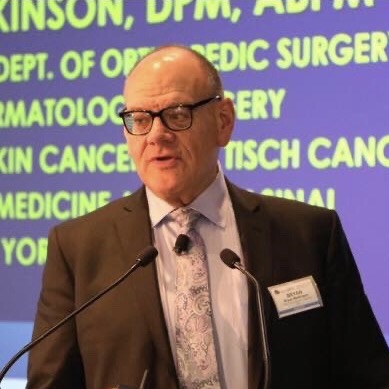 About Dr. Bryan C. Markinson, DPM
Dr. Markinson is a 1981 graduate of the New York College of Podiatric Medicine. He completed a Podiatric surgical residency at the New York College of Podiatric Medicine and affiliated hospitals in 1982, after which he trained as a Fellow in Podiatric Medicine at the same institution, ending in June 1983. That program focused on dermatologic, rheumatologic, and diabetic foot disorders. He then received an academic appointment at his alma mater, where he currently is an adjunct Professor in the Department of Podiatric Medicine. He started a private practice in Brooklyn, New York, in 1984. He was Board Certified by the American Board of Podiatric Orthopedics and Primary Podiatric Medicine in 1989, and voluntarily completed the re-certification process in 2003.
From 1993 to 1995, Dr. Markinson received additional training in podiatric pathology at the University of Medicine and Dentistry of New Jersey, in the division of dermatopathology, under the direction of W. Clark Lambert, MD, PhD. He then started the Podiatric Pathology service at the Mount Sinai Medical Center in New York City.
He is a Fellow of the American Society of Podiatric Dermatology, and was elected President of that organization in December 2003, his term ending in September 2005. In 2004, Dr. Markinson began serving on the board of the Council for Nail Disorders, and affiliate of the American Academy of Dermatology.
In 1999, he joined the full-time faculty practice at the Leni and Peter W. May Department of Orthopedic Surgery of the Mount Sinai School of Medicine as the Chief of Podiatric Medicine and Surgery. This enabled the Mount Sinai of Queens Podiatric Surgical Residency to expand from four to twelve residents, and from a two year program to a three year program.
Dr. Markinson's special areas of interest are podiatric skin diseases and tumors, including early diagnosis of pedal melanoma and fungal diseases of the skin and nails, pedal dermatitis, diabetic foot problems, foot surgery, and the special foot health problems of the elderly. He lectures extensively and enjoys participating on various advisory boards in the pharmaceutical industry.